1. Sign in to the Azure portal

2. If you have access to multiple tenants, use the Directories + subscriptions filter in the top menu to switch to the tenant in which you want to register the application.

3. Search for and select Azure Active Directory.
4. Under Manage, select App registrations > New registration.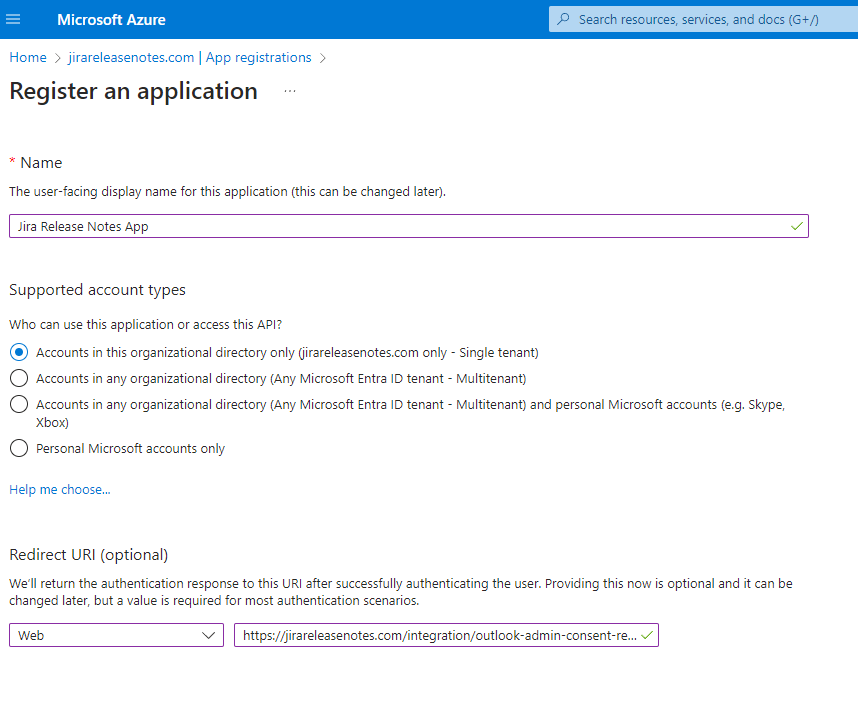 Supported account types
Select "Accounts in this organizational directory only"
which means you're building an application for use only by users (or guests) in your tenant.
Often called a line-of-business (LOB) application, this app is a single-tenant application in the Microsoft identity platform.

Redirect URI
Selected "Web" from platform list.
Put https://jirareleasenotes.com/integration/outlook-admin-consent-redirect to the URI
Certificates & secrets
Select Certificates & secrets > Client secrets > + New client secret.
API permissions
To configure application permissions for the app, follow these steps:
Under the application's API permissions page, choose Add a permission.
Select Microsoft Graph.
Select Application permissions.
In the Select Permissions dialog, choose the Mail.Send permission to configure to the app.